Coryn Kempster used the Architectural League Prize competition's prompt to address the "Objective" within the portfolio of Coryn Kempster + Julia Jamrozik's firm
This is part three of a series of exclusive conversations with this year's Architectural League Prize winners. Hunter Douglas Architectural is thrilled to support the legendary design competition.
Zoë Zellers
Click here to review competition rules and apply for the League Prize, which is accepting submissions through February 11.
Architect Coryn Kempster and other applicants vying for this year's prestigious Architectural League of New York's League Prize for Young Architects and Designers, were prompted to consider the role of the "Objective" within architecture, and what it meant to their own project goals. Kempster makes up one half of the architectural firm, Coryn Kempster and Julia Jamrozik, based out of Buffalo, New York. He says the design competition's theme challenged him to "frame our work and pause… to step back, look at what we've done, why we've done it and project into the future with a little more clarity."
The firm works across a wide range of mediums, including communal spaces in areas with a high refugee population and modern residential projects that take on a deeply personal tone. So, as Kempster decided to apply for the League Prize, he referenced these diverse projects in responding to its theme.
"In doing that," he says, "it made us filter for ourselves what our work was and what the commonalities were" between these various scales and styles, dividing the projects into three categories: domestic narratives, expanded preservation and social infrastructure (more on these later). And while Kempster technically applied and won the prestigious prize on his own, because his portfolio and design philosophy are so closely tied with that of his partner, Julia Jamrozik was heavily involved from the start. We even spotted her on hands and knees doing last minute paint retouches to help Kempster with his installation for the League Prize winners' exhibit at the Parsons School of Design this past summer.
Review + Reframe
Before applying, the duo spent a long weekend "agonizing" over framing their existing projects to answer the competition's theme. Kempster says this was ultimately a "tremendously productive" exercise. As a result, "we ended up reorganizing our website… we thought about our work in a different way and now, when we're talking to people about our work, we've been doing it in the three themes that we set up to respond to the call. Of course, then we won the prize which makes it all 200% better," he smiles.
He believes there are certain objectives that strike a chord with all emerging architects. These include social responsibility, environmental stewardship, and function or the "usability of the things that you're creating with a focus on the user."
Kempster adds, "Specifically, as we started to think about our work in the frame of objectivity, we started to realize that, in fact, that lays the groundwork for our projects. What's actually then, I think, the motivating force, is the more subjective side of architecture, art and design. For us, that means the memories that our work can create for the people that inhabit it or the social interactions that might come about as a result of people interacting with our work that maybe otherwise might not have happened. They speak to somebody that they might otherwise not have spoken to."
The rack prompted visitors to take a postcard featuring a project image, and share it with their own audience.
Within the Parsons exhibit, Kempster encouraged a layered social interaction by beginning with "a familiar prompt, something that everybody just sees and intuitively gets and know how to use." So, the designers created a lively, chartreuse-colored postcard rack as an accessible medium used to display project images, but also to nudge visitors to take a postcard and share it with their own audience, encouraging further discussion and giving life to social interactions created beyond the gallery space.
Kempster points out that if a stranger waiting for the bus spots the postcard and asks about it, "They don't have to talk about our work… Maybe it just starts some conversation about anything at all, but you've got two people talking to each other who wouldn't have maybe spoken to each other before. I think, in this day and age, and I'm as guilty of this as everyone else, we are so wedded to our mobile devices. Often when you're in public space you're actually interacting in a different public space, but not in the physical public space around you."
By using a postcard rack to showcase his reflection on the "objective," Kempster explains, "It demystifies it… people feel free to interact with it because they understand it… You feel invited, you feel free."
Social Infrastructures
This public call to engage through shared experiences is the same mindset behind Coryn Kempster and Julia Jamrozik's drive to create "social interactions" in the form of playground elements, which they've installed from Québec to Cleveland. For instance, for "Full Circle," they created a hot pink-colored swing set on an empty lawn in Buffalo in a neighborhood many immigrants and refugees call home. Beyond encouraging interaction and dialogue between neighbors of such diverse backgrounds, the goal is for its users to ultimately take ownership over the space. Once that magical moment happens, the project is out of the architects' hands and truly in the palms of the people. He chose to showcase this theme via postcards of kids using the swing set, in well, in full swing.
"Every project has a life, and we're instrumental to that life at the very beginning of the project," Kempster notes, "but there's a moment when our role is finished, but then the project lives on. Ideally, in the scale of a project, the time that we're involved is actually very short and the life of the project is much longer after that."
They took a multi-faceted approach in generating early involvement from neighbors like the school across the street, a local wellness committee, the organization PUSH (People United for Sustainable Housing), and a gallery that teaches at-risk youth videography skills. Two years later, "we couldn't be happier with how well it's gone – it's been taken over by the neighborhood. It's absolutely theirs," says Kempster.
Expanded Preservation
On another side of the postcard rack, Kempster explores the theme of "expanded preservation" or the search for "alternative means to document history, to preserve typically an architectural or urban legacy by bringing to the front voices that potentially aren't as foregrounded in history at the moment." In their ongoing research project Growing Up Modern, Kempster and Jamrozik located and interviewed people who were some of the very first children to grow up in some of the world's most significant early Modernist homes. With these early inhabitants now in their old age, the architects saw this as a "last moment to catch these stories" which "had been overlooked by and large in architectural history."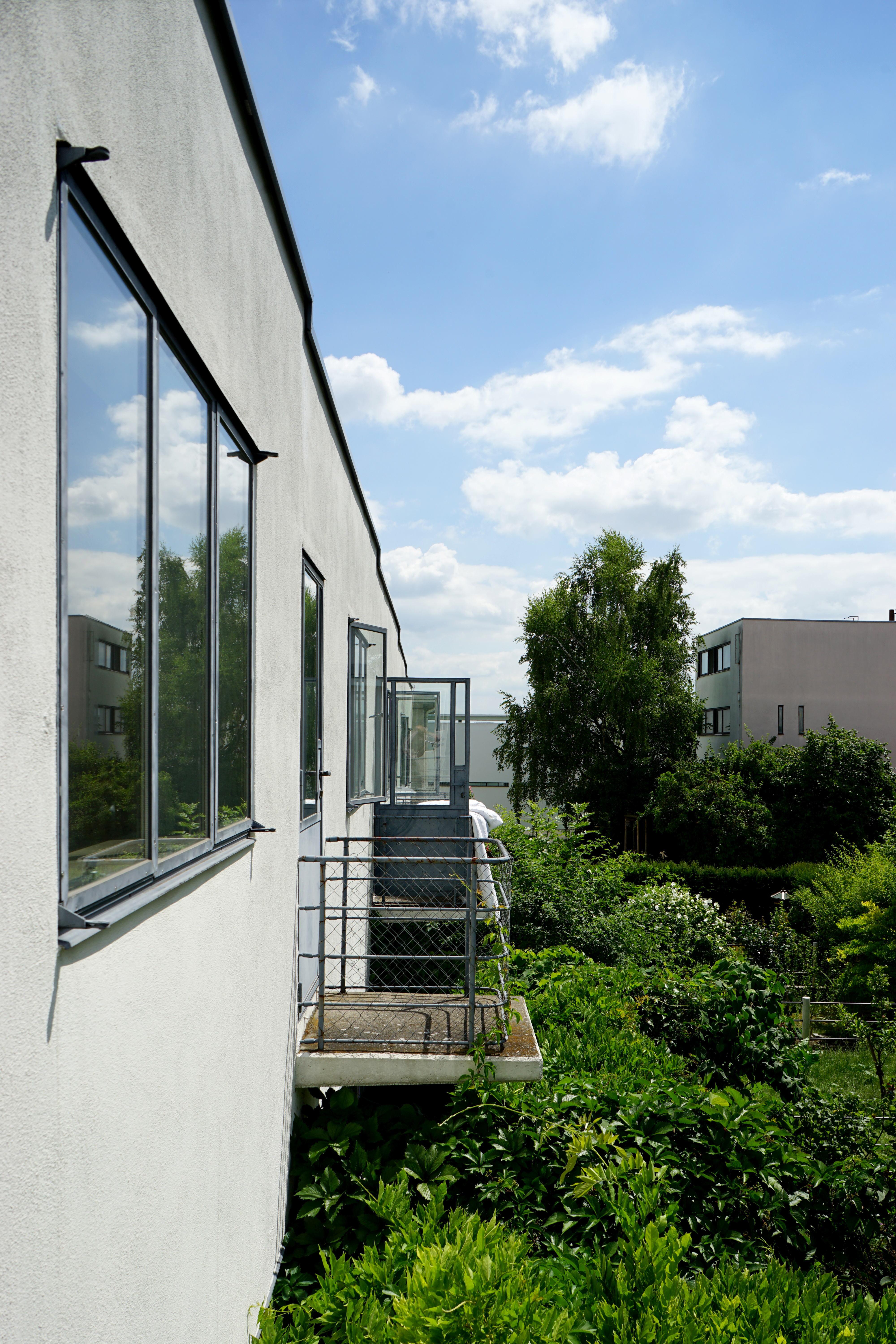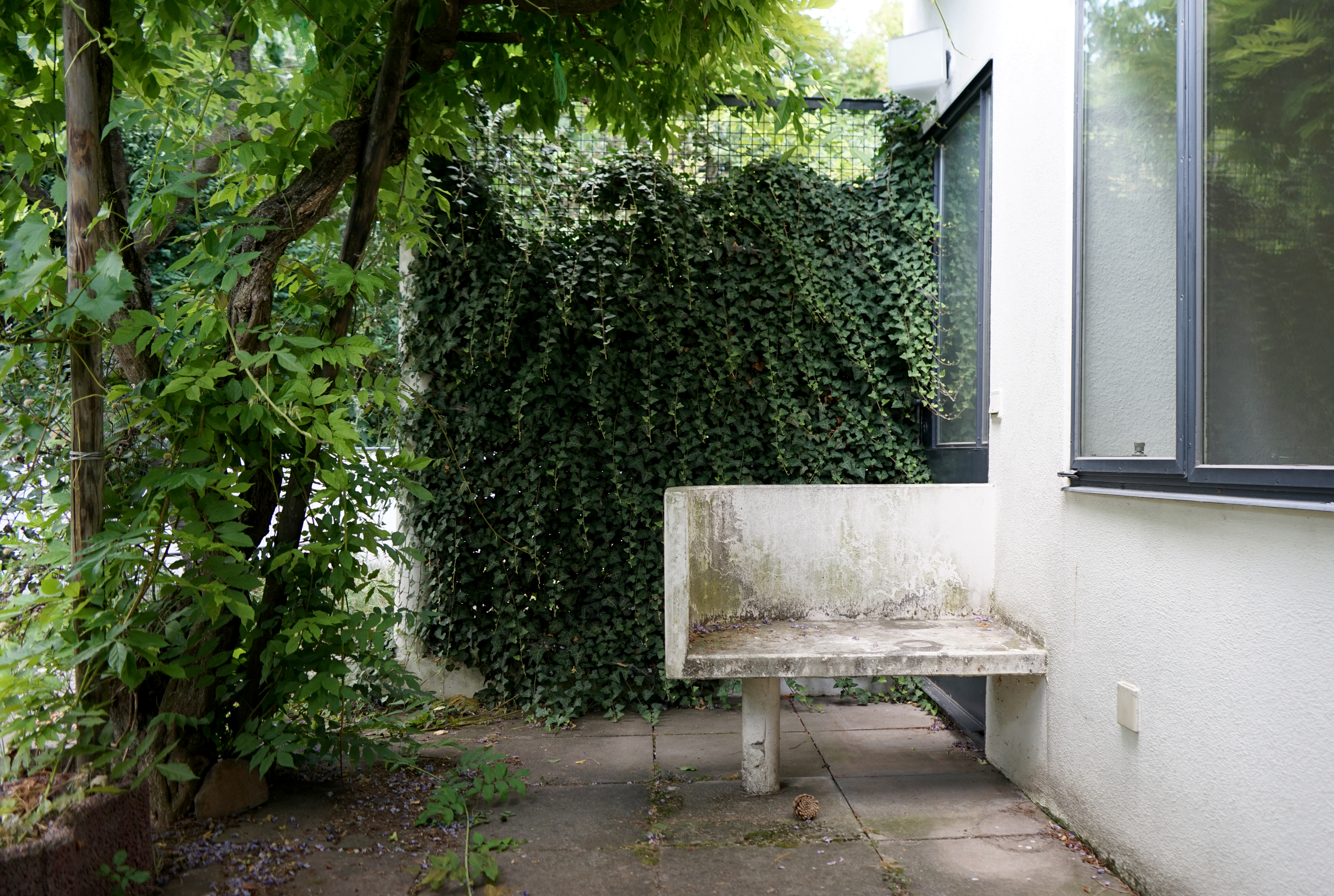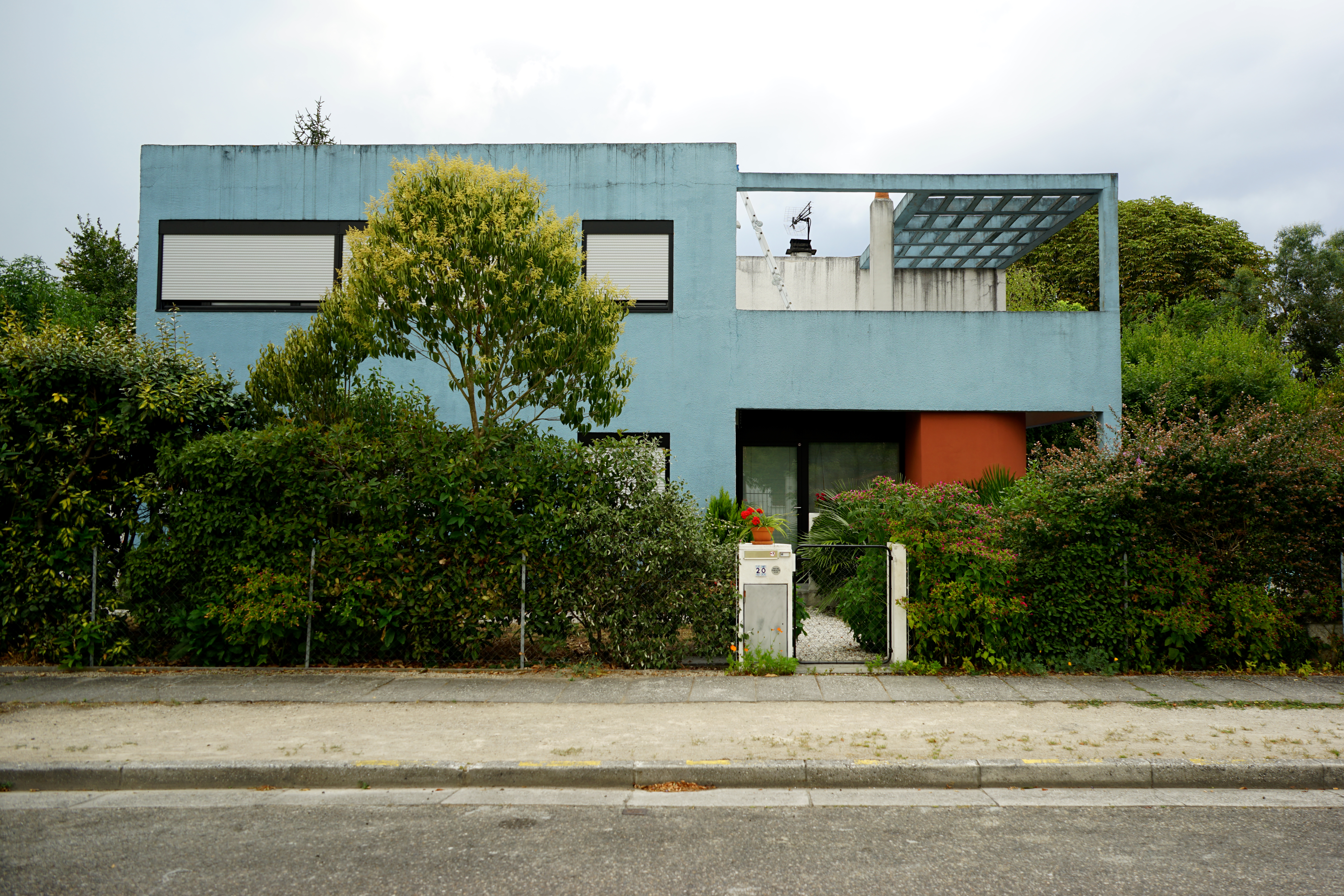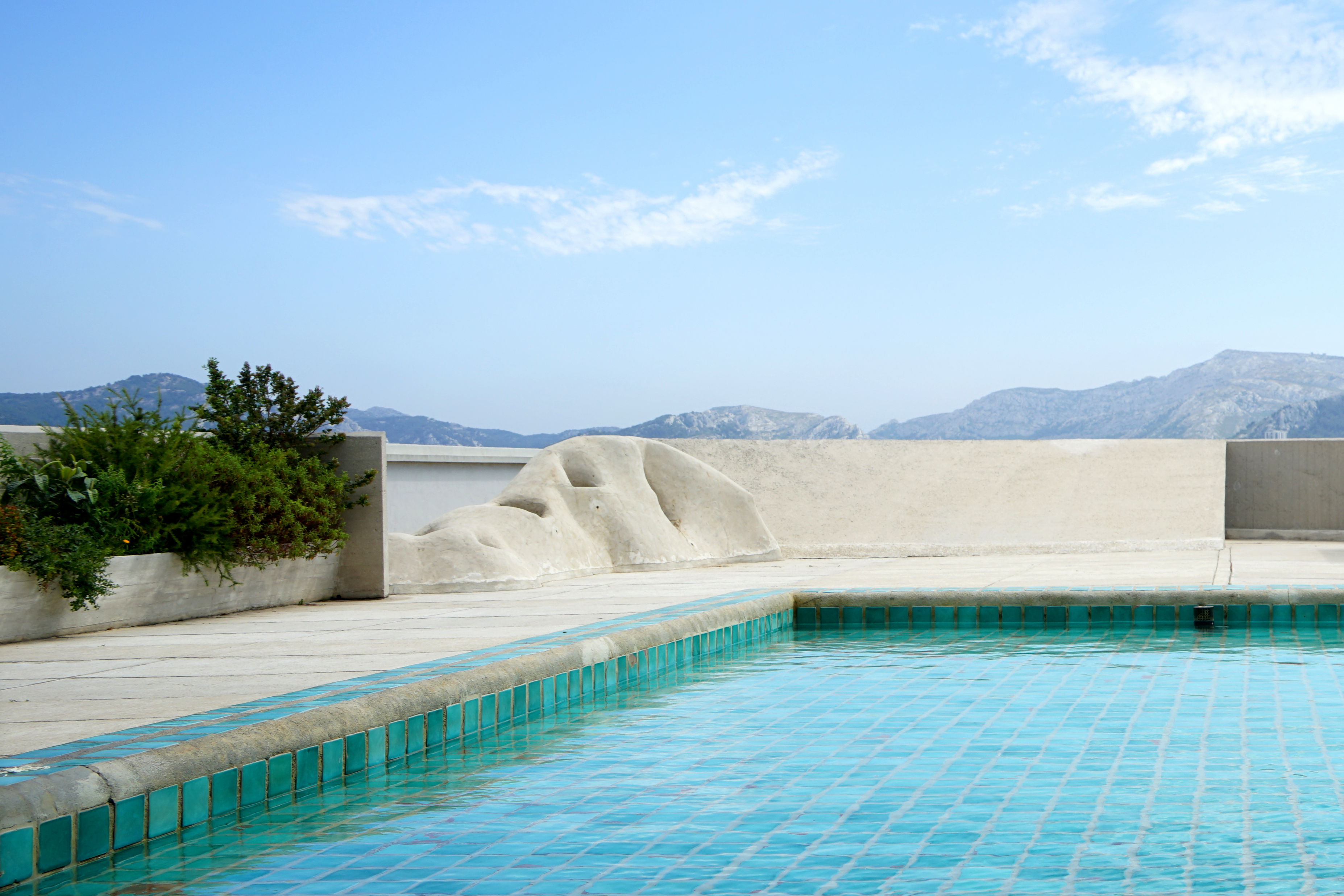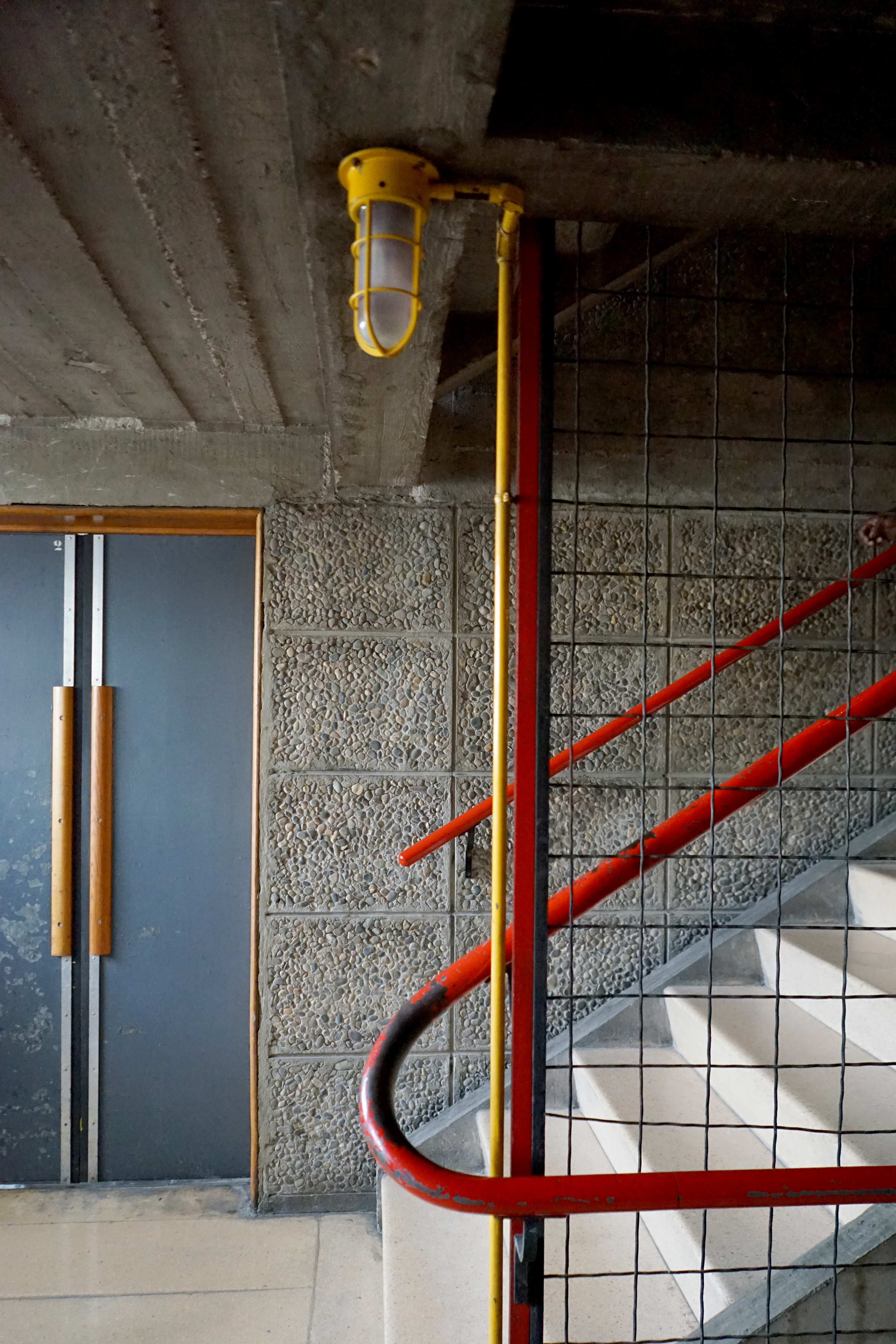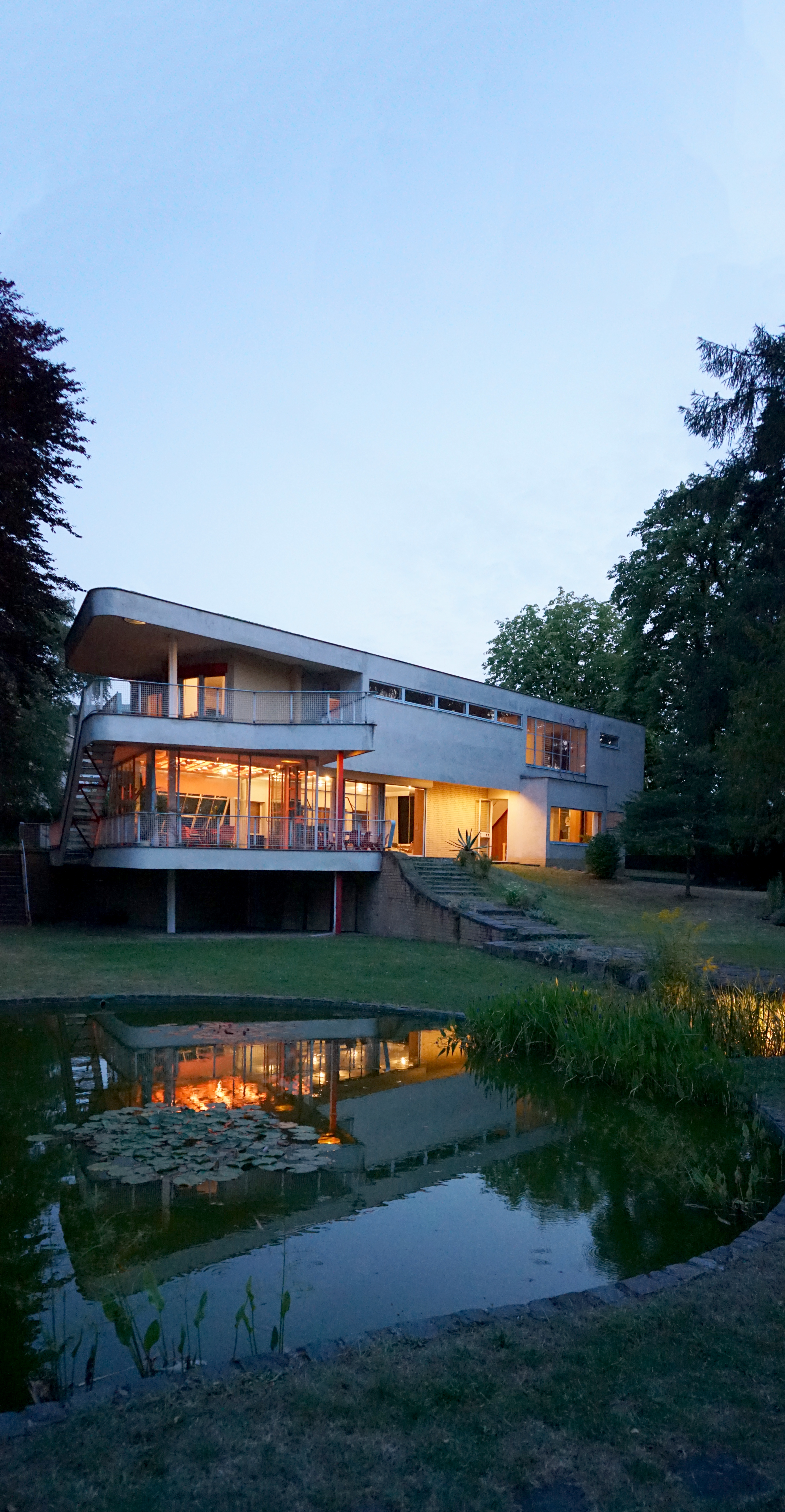 Kempster references the Tugendhat Villa designed in 1930 by Mies van der Rohe in the Czech Republic. He says that while the parents who commissioned van der Rohe to create a unique modernist villa would have been obvious fans, "the kids are guinea pigs, they're thrust into this situation." The duo wanted to capture these children's "very different perspective on what it meant to occupy that space and very importantly, in that time." The oral stories that came out of the project are funny, charming and completely unexpected takes on what it's like to live in revolutionary Modernist homes and housing in the early twentieth century.
Domestic Narratives
The last side of the postcard rack speaks to the theme of "domestic narratives." For the firm, this means the ability to communicate stories through everyday spaces, which includes anticipating different perspectives and changing uses. Kempster focused on "Sky House," a Stony Lake residential property that he and Jamrozik completed last year in Ontario. Here, the architects viewed the daughter as a "stakeholder in the project," and considered her perspective in the design.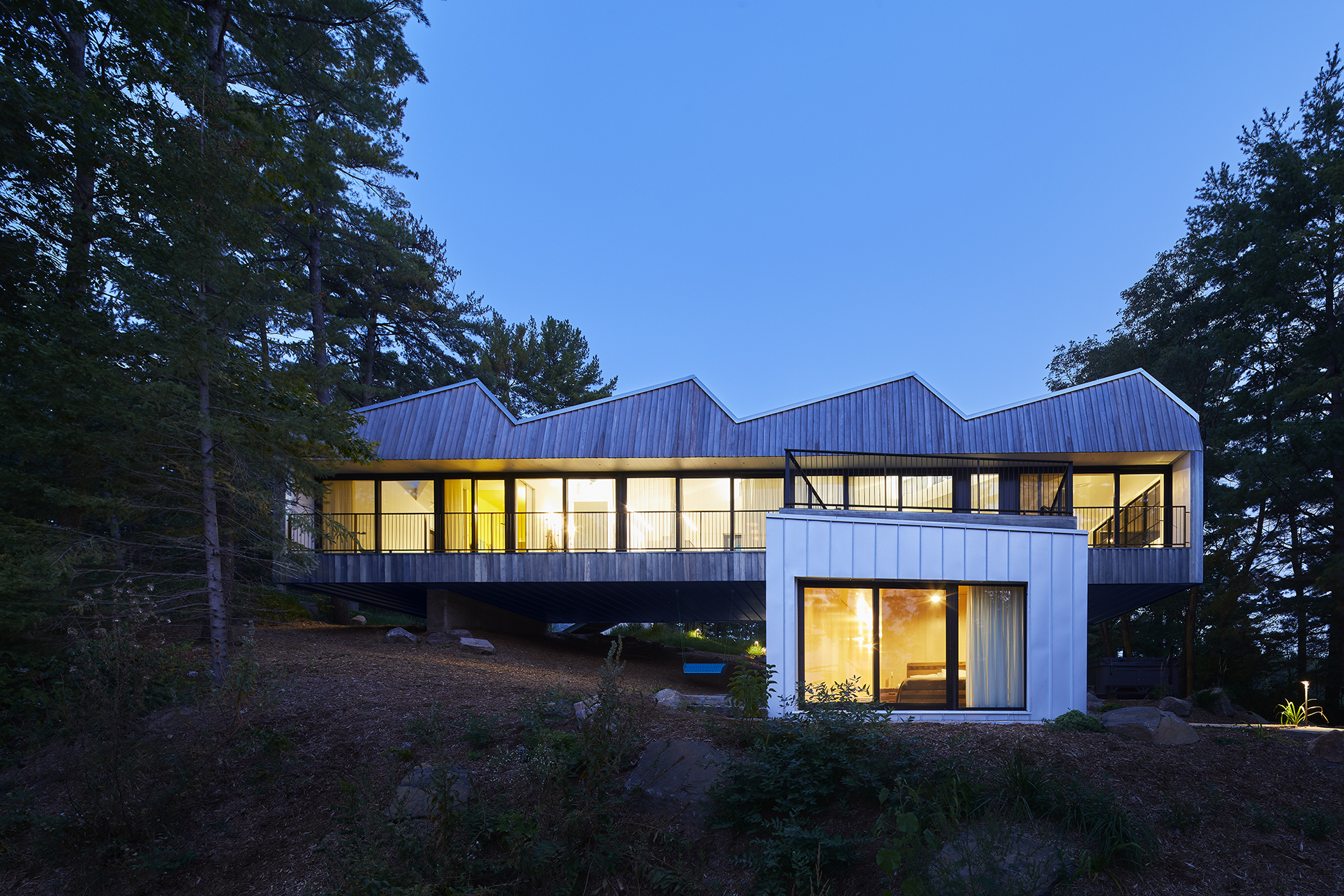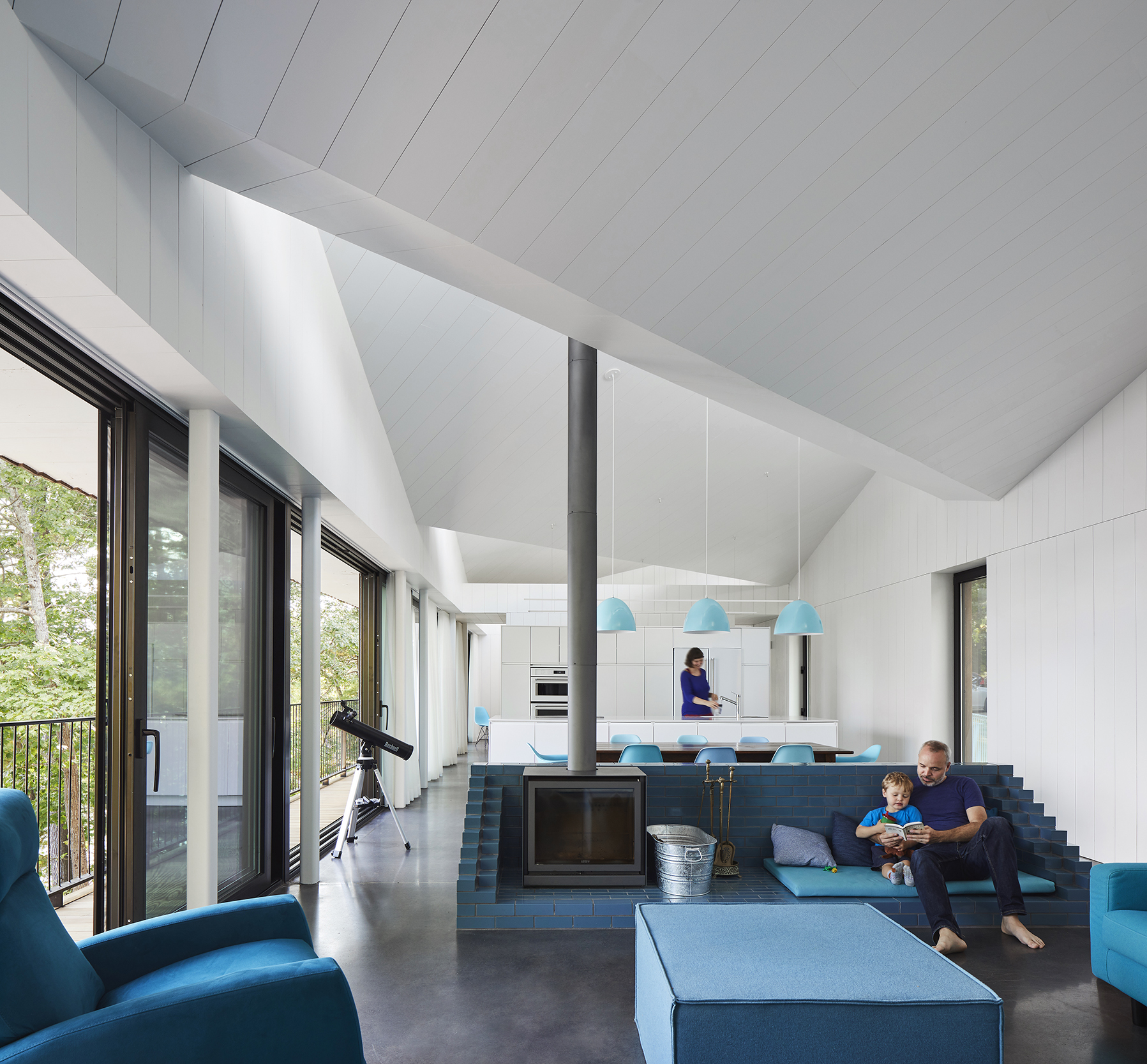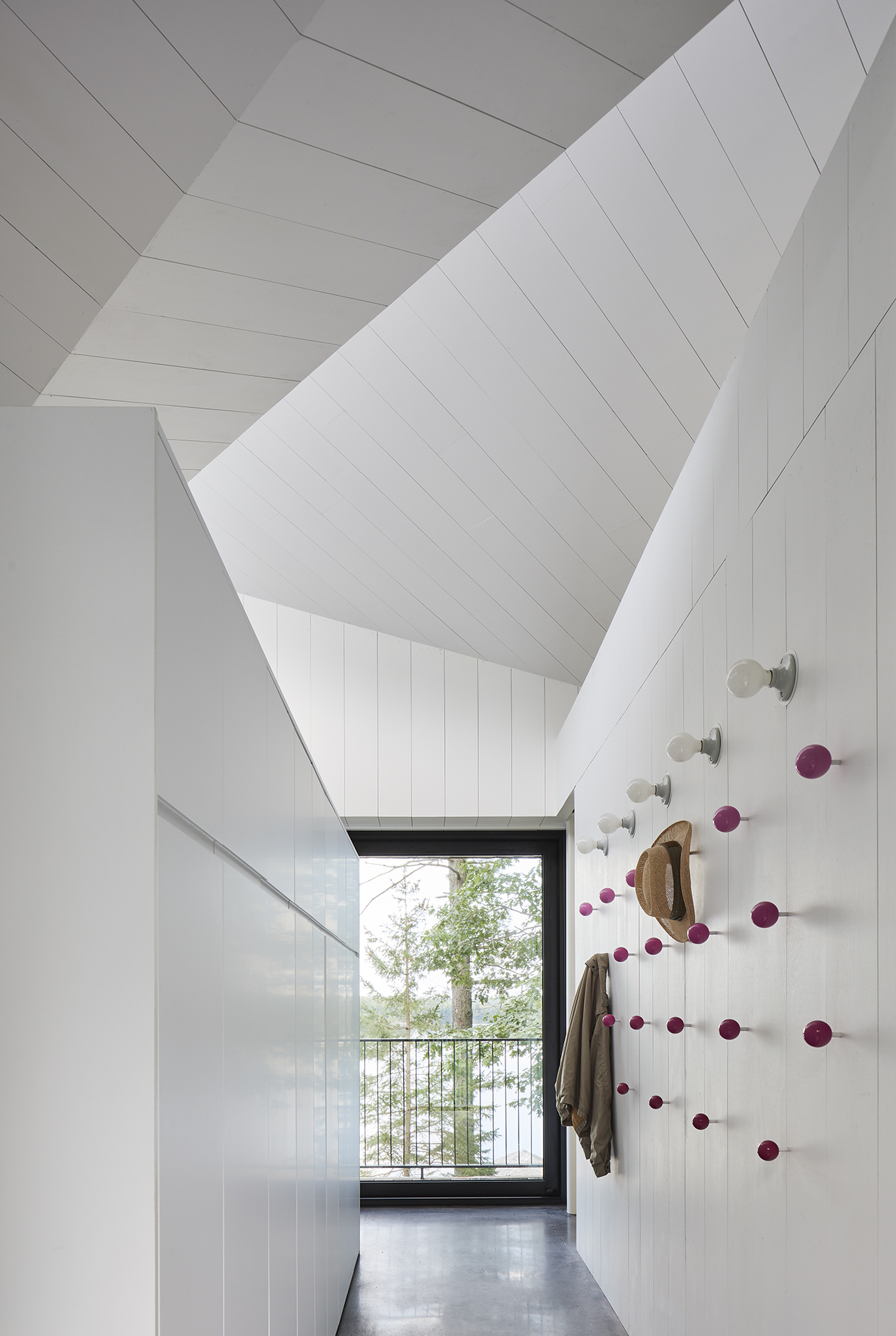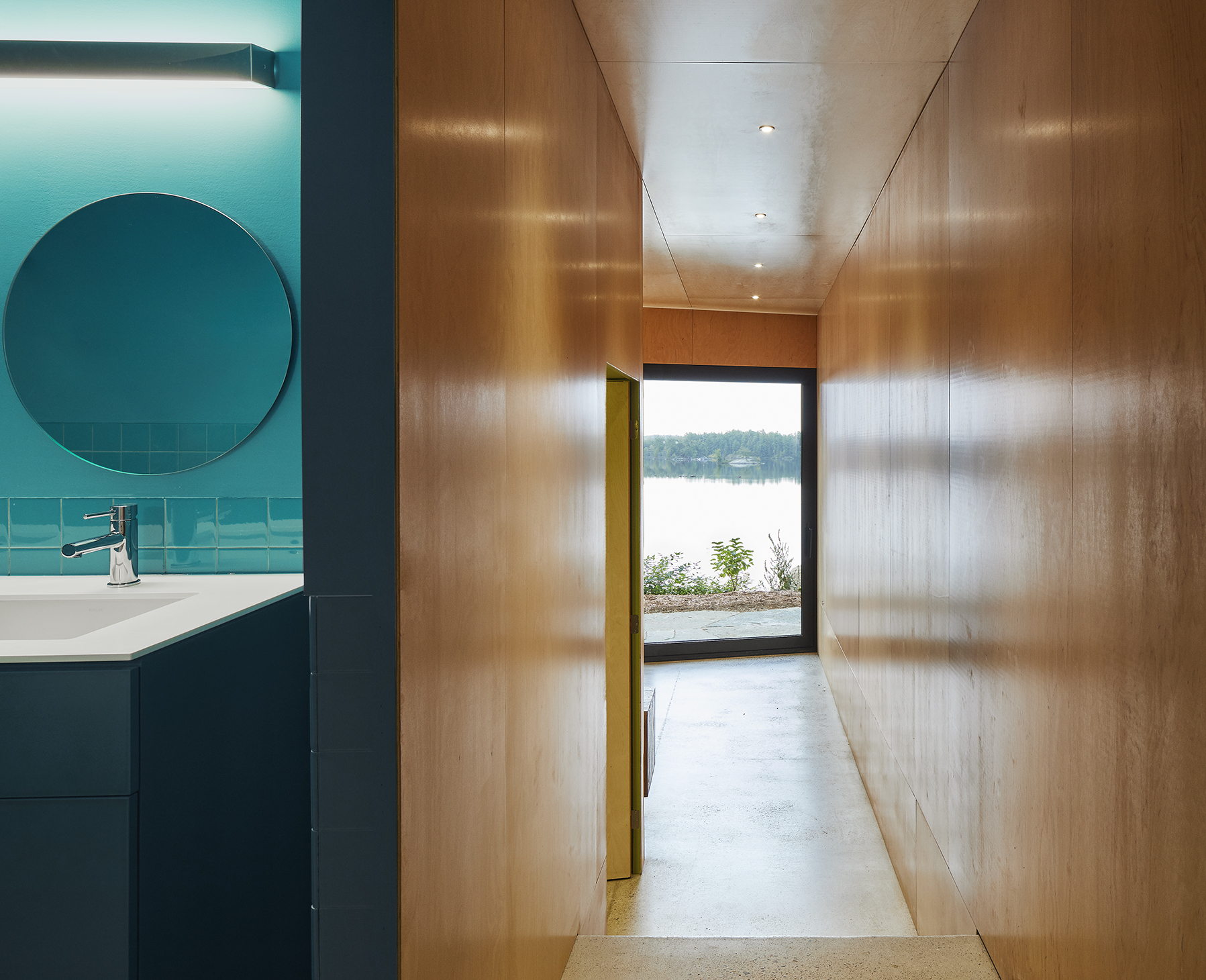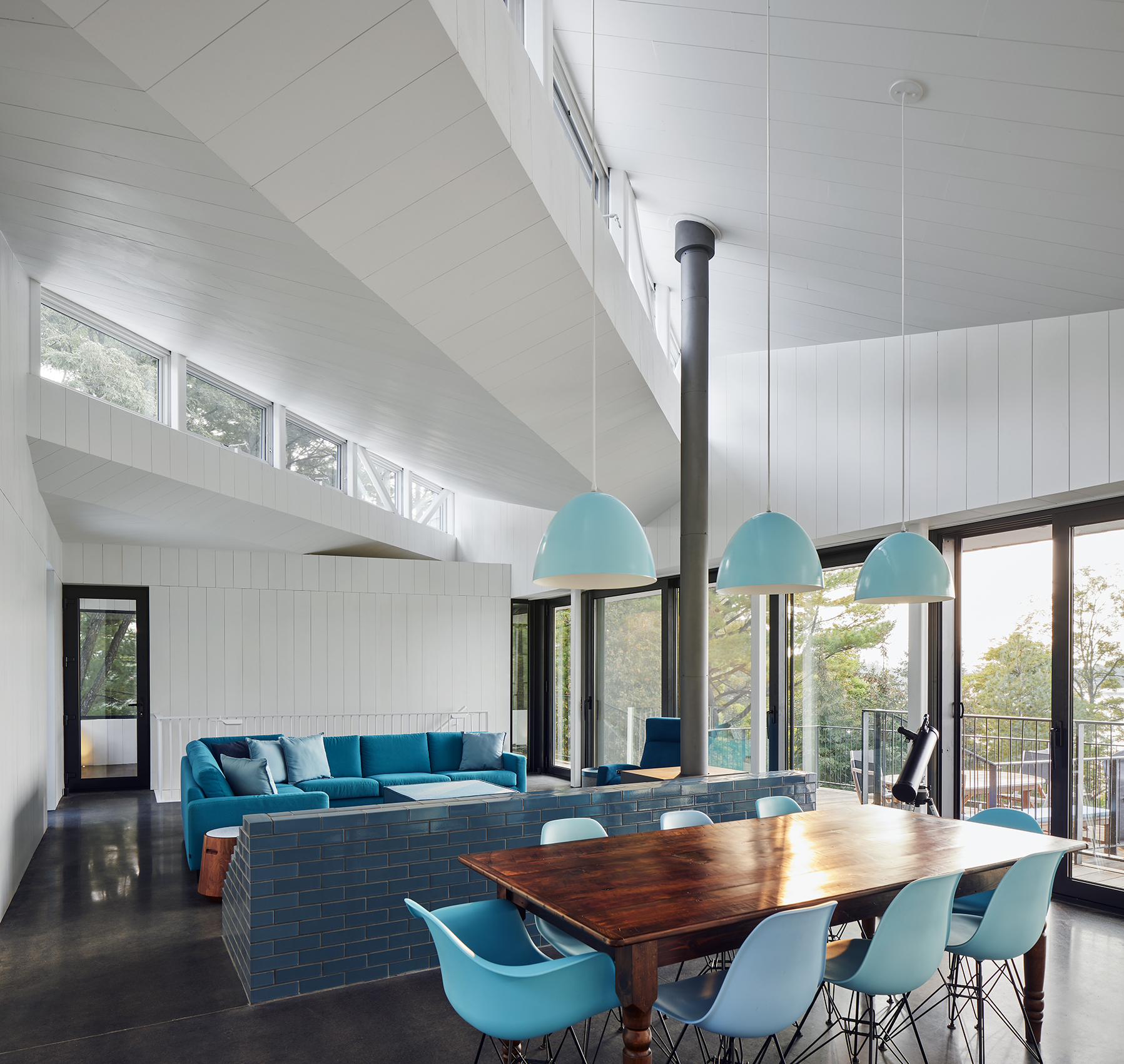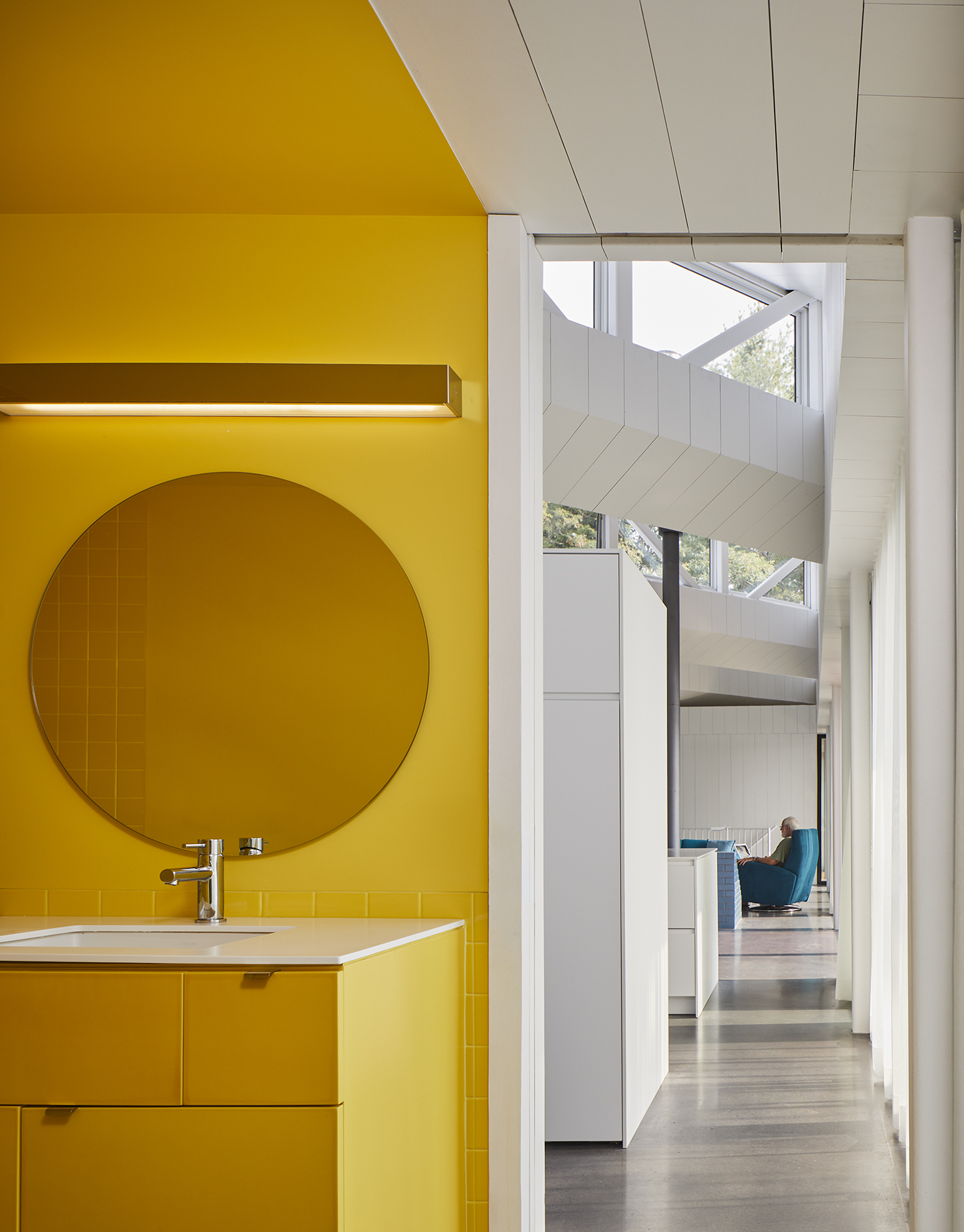 For example, the architects celebrated the daughter's love of having friends for sleepovers by giving her a bed that's the full width of her room. There's a moment on the property that bridges the ground and the bedrooms and so they incorporated a swing bench so the daughter could "crawl up and have a private view of the lake, maybe away from her parents because she's probably be coming up on that age… and will need to have a space for herself," Kempster explains. He says interviewing children on their experiences in Growing Up Modern may have helped inform this awareness towards her needs. "It was a rich layer for us to have in mind as we were working on the project to be thinking about her as having as much urgency in the process as her parents."
Having gone through a meticulous self-review and a reimagining of the themes of their work, Kempster and Jamrozik feel more motivated than ever in their approach to future work. After being able to display their work in the Architectural League Prize winners exhibit, Kempster says, "It is tremendously humbling… when you look at the past winners, it's difficult to imagine we belong in that company. It also comes with knowing that this is specifically a prize given early in a career, and we're very hopeful that has an impact and is a kind of early recognition that hopefully leads to potentially other commissions or even just meeting other people and you never know where that's going to go. We couldn't be happier."
To listen to Coryn Kempster's full League Prize lecture delivered at Parsons, click here. The 2018 Architectural League Prize winners are Anya Sirota of Akoaki, based in Detroit; 
Bryony Roberts of Bryony Roberts Studio in New York; Gabriel Cuéllar and Athar Mufreh of Cadaster, out of Brooklyn; Coryn Kempster of Julia Jamrozik and Coryn Kempster in Buffalo;
 Alison Von Glinow and Lap Chi Kwong of Kwong Von Glinow in Chicago; and Dan Spiegel of SAW // Spiegel Aihara Workshop in San Francisco.