Architects behind Chicago's Kwong Von Glinow, discuss eliminating apartment corridors + rethinking affordable housing design
This is part six of a series of exclusive conversations with this year's Architectural League Prize winners.
Zoë Zellers
Click here to review competition rules and apply for the League Prize, which is accepting submissions through February 11.
"Our motto is, 'enjoy architecture. We really want to enjoy doing our work. At the same time, we want to do the work that people can enjoy," says Lap Chi Kwong, one-half of design duo Kwong Von Glinow Design Office. Kwong is married to Alison Von Glinow, and together the young architects founded Chicago-based design practice in 2016, having first worked for the likes of Herzog & de Meuron, SOM, Wang Shu and Toshiko Mori. We caught up with the duo in New York after they submitted a winning idea for 2018's prestigious Architectural League Prize competition, which turned typical architectural structures – like an apartment building – into new avenues for organic, social interactions.
Lap Chi and Alison addressed the prompt, themed around objectivity, with a passionate yet easy-to-digest rethinking of affordable affordable housing in New York City called The Table Top Apartments. They exhibited a 10-foot-long model of a modular system of a series of table tops, which stack to allow for diversity and flexible design to accommodate various unit combinations. For example, the adaptable system of stacked table tops can offer apartments with sweeping shared balconies, towers with setbacks, superblocks, walk-up units, and more to provide diverse styles of housing to represent the different needs of residents. The quirky vision, which previously won 1st Prize for the New York Affordable Housing Challenge, was exhibited in the street-level windows at Parsons School of Design's Sheila C. Johnson Design Center. The Fifth Ave. display beckoned curious New Yorkers to stop by the exhibit celebrating the League Prize design competition, which Hunter Douglas Architectural is proud to sponsor.
"We're trying to make what we're designing accessible and related to the users," explains Von Glinow. With the table top display that proposes alternative designs for New York City housing, "everyone gets it when they see the project and for us, that was important," she adds. "People can understand what they're seeing, what they're experiencing."
The team uses materials, light, color and geometry to create a "geometrical language," which Von Glinow says was used to "erase" an apartment building's standard corridors in order to leave room for engagement between residents and guests. The table's legs represent infrastructure while the table top, available in different forms from round to rectangle, represent customizable living space. As the differently shaped table tops are arranged, they are intentionally misaligned to create a vertical open courtyard space to bring in light, air and a friendly sense of openness within the structure.
In another alternative affordable housing proposal, Kwong Von Glinow stacked pre-assembled apartment units vertically, rather than horizontally, as a solution for Hong Kong's urban density issues. As the floors go higher, the units would have smaller floorplans to form a pyramid structure to open communal space between the floors of each home. This layout would create an interior network of halls and landings between units, were, a resident might hang laundry to dry, grow a garden or sit on a balcony with neighbors.
These concept designs echo a Chicago housing project that the design practice is currently working on to transform traditional corridors into "almost like a playroom-type space," Von Glinow notes.
"A corridor is just to get from A to B, but now a corridor is for you to spend time in, and do what you want to do in that corridor," Von Glinow points out.
Kwong is interested in the tension that comes with less "prescriptive" visions for shared spaces, and says "it's also about the control and not control – people can really use it the way the way that they want to."
Likewise, Von Glinow agrees, "I think we like to try to keep it loose and allow the user to figure out how they want to use the space or be in the space."
While Kwong recognizes there is a certain sense of humor and steady playfulness in the way they present ideas like the exhibit's display of mini connected table tops, he actually admits, "we didn't plan for that."
He says this can come with the territory of reinterpreting an ordinary element and creating an abstraction like table tops used to express organic interactions in multifamily housing and new public spaces. At Volume Gallery in Chicago, Kwong Von Glinow recently exhibited "Smuggling Architecture," which reframes a 1:15 scale model of a standard suburban house by "liberating" crown molding elements from their typical context. The crown molding is no longer a means of covering up joints with aesthetics. Instead, oversized crown molding forms are used to trace seams and reorder the interior, leaving room for architectural interventions that are unique to the home's occupants.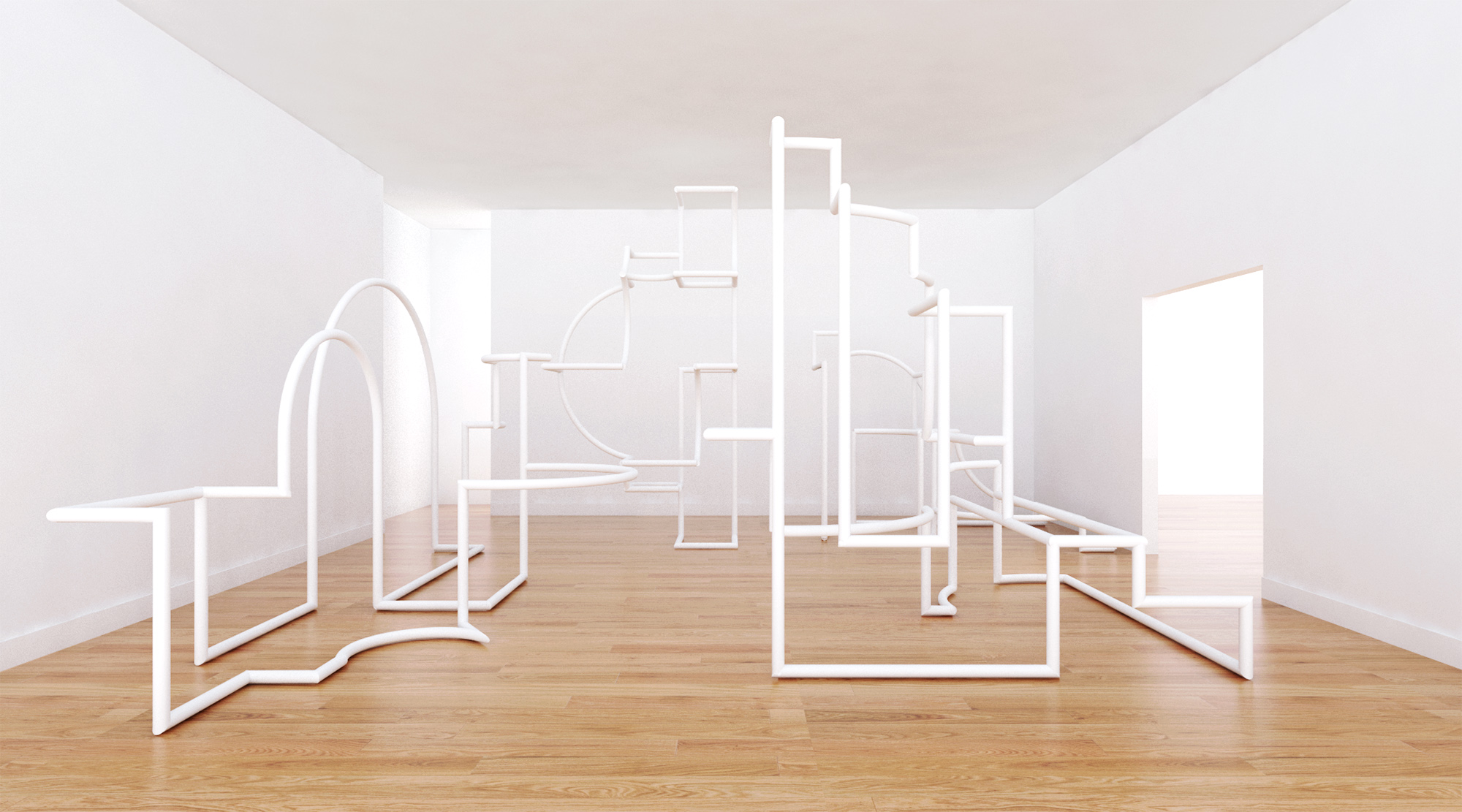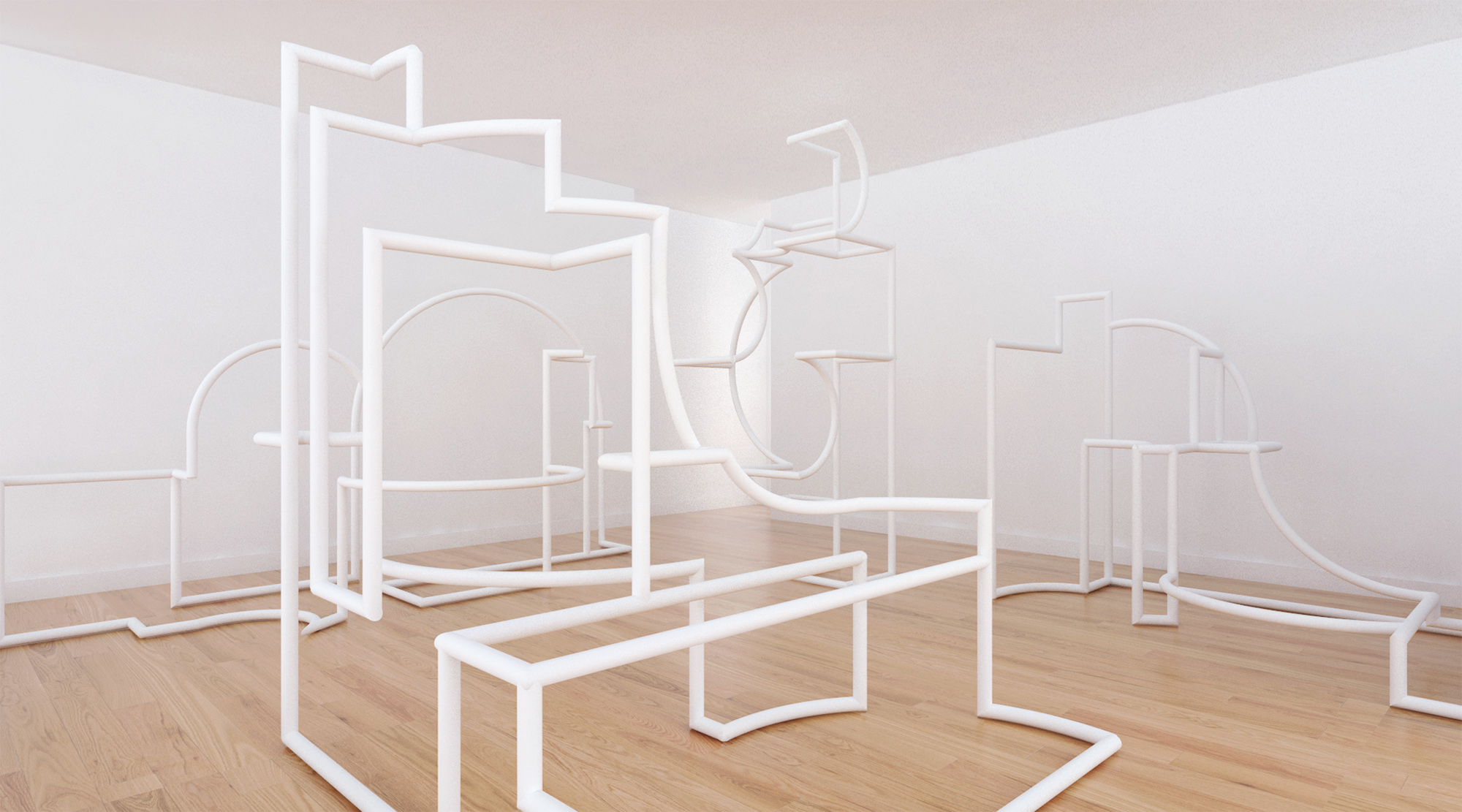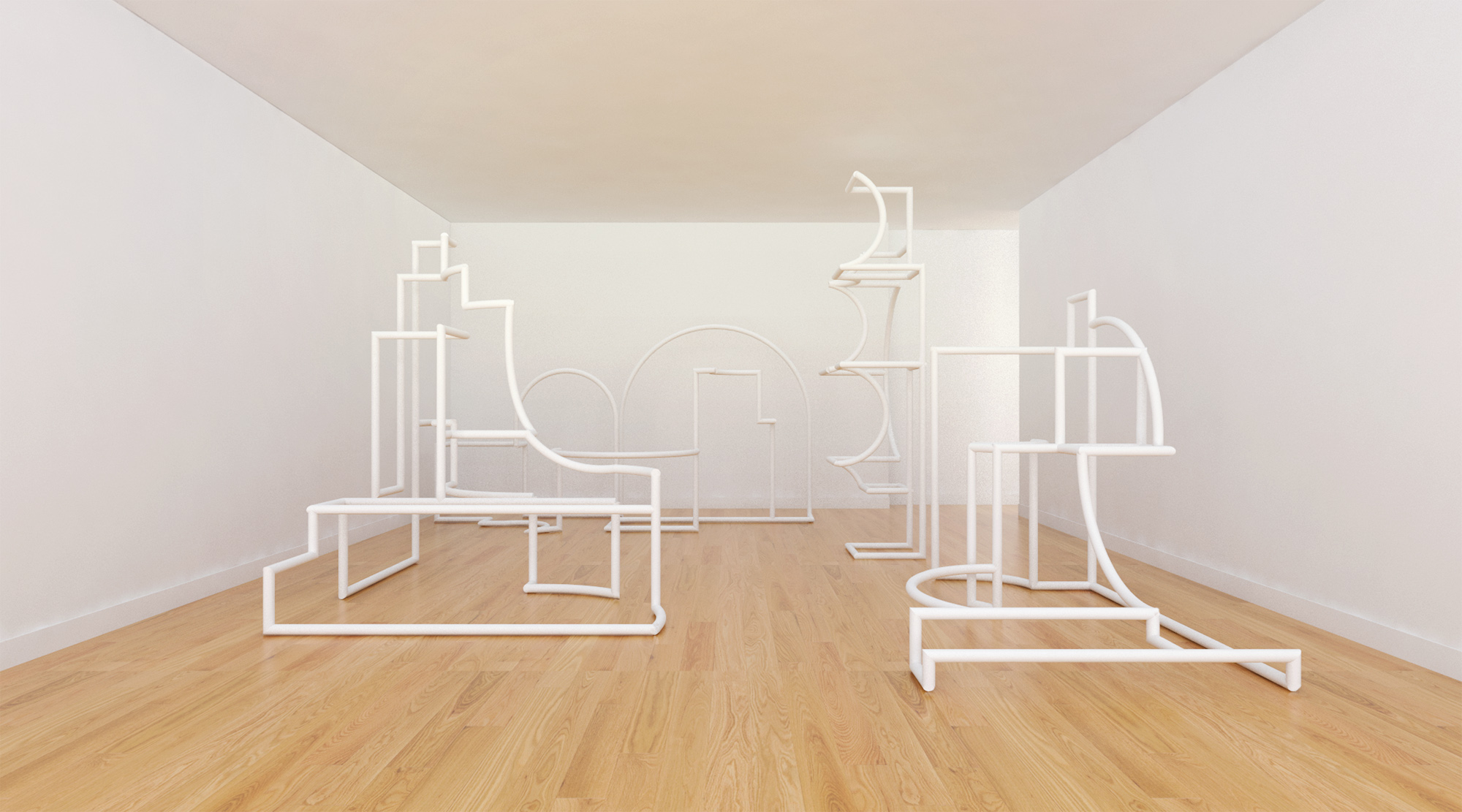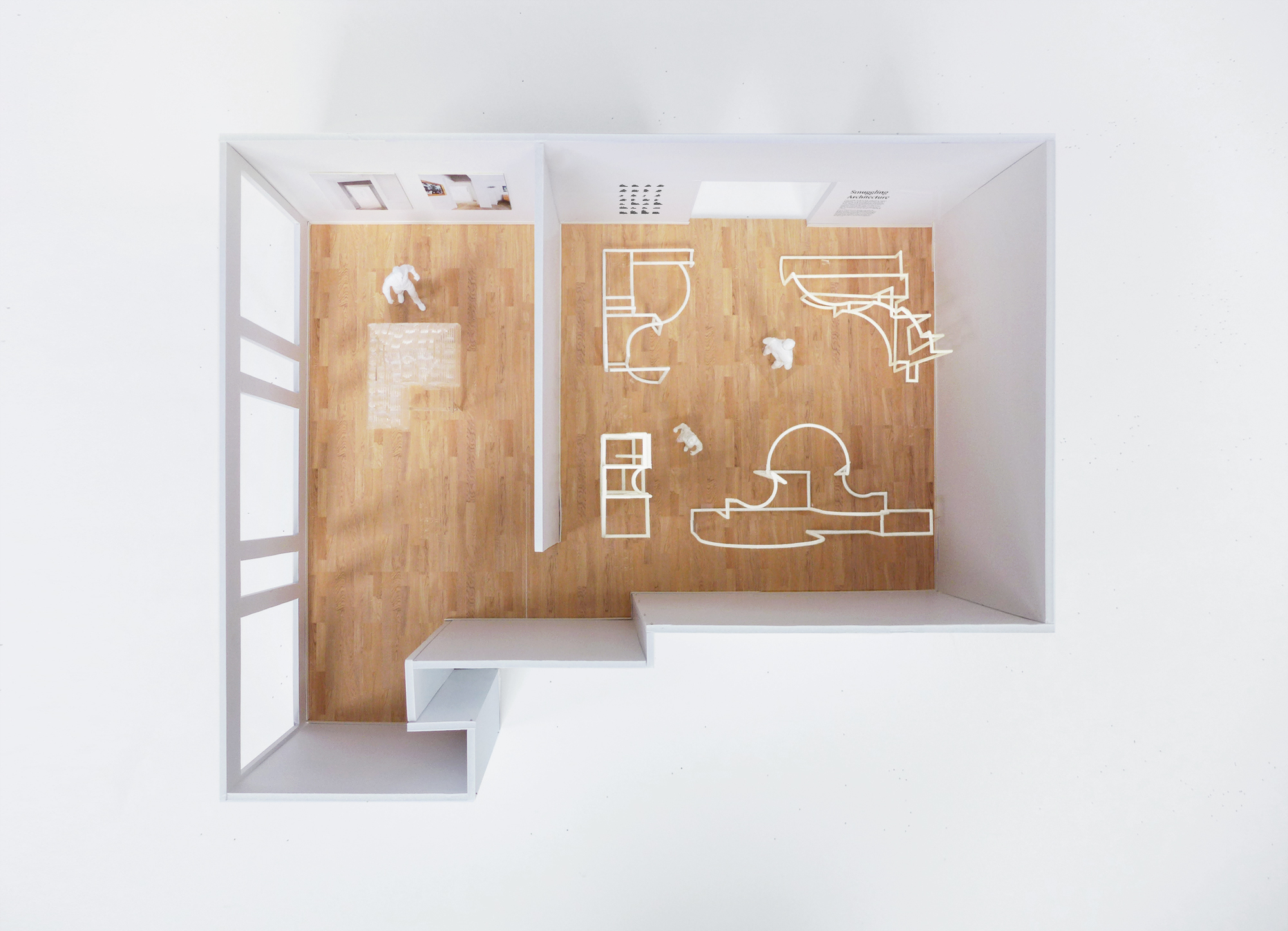 "For us, it's been a common thread in other housing projects like a tower in Hong Kong that we designed that's started to erase the corridor," says Von Glinow, adding that the practice's focus on housing is "something that we want to continue to think about."
The husband-wife team also focuses on public projects and their first major joint effort since co-founding the design office, was 2016 Chicago Prize competition hosted by the Chicago Architecture Club. The international biennial competition prompted applicants to consider improvements to a public 26-mile Lake Shore Drive.
"First we went back to Chicago," Kwong remembers, "and then we drove there [along the strip] five times, going back and forth, and we were thinking, 'what's wrong with this brief? Everything is beautiful. The drive is the most beautiful drive, it's amazing, the lake's beautiful… What can we do here?"
Eventually though, Kwong Von Glinow found "an opportunity" to propose Lattices on the Drive. The design creates something more out of the ordinary by examining a dark section on the path from the city to the lake that needed improvements. They created a lattice-like design that would traverse above the path so that while cars passed from the city to the lake, locals and tourists alike could enjoy vertical access points at underpasses to a steel-frame upper viewing deck. Their idea presented a pedestrian-friendly experience that celebrated stunning views of Chicago's skyline. It also created a new space to hang out along Lake Shore Drive, transforming it beyond just a strictly function, albeit beautiful, way to commute from point A to point B. The proposal was exhibited at the Chicago Architecture Foundation.
Both partners presented during the League Prize winners' lecture, discussing the "Objective" in architecture. Yet one of the most memorable and personable moments was when Kwong shared how he wooed Von Glinow, finding creative ways to express and document the unique "language" of love. The two met as students at the Harvard University Graduate School of Design in a studio led by Pritzker prize-winner Wang Shu. They traveled together to China with Wang Shu to China, became friends and eventually started dating. Both went on to work for top firms from Basel, Switzerland to New York to Chicago, before opening their own practice.
After gaining exciting, high-pressure experience working for these top firms, "we thought that it was time to start our own practice," Von Glinow smiles.
"We started talking about design and we knew from pretty early on that we thought we would design well together and [that] there was a future for that among other things."
Kwong says that while running your own practice poses challenges from staffing to getting referrals and commissions, they believed the time was right because, "we're still kind of young and if it doesn't work, then we can do something else…. we wanted to really test out if this was possible and we are still in the process of trying to make it possible."
To start, the two young architects realized they didn't have any commissions so they saved their money and shifted their focus towards applying for as many competitions as they could. Through a rigorous nine-month process focused heavily on crafting ideas for competitions, Von Gilnow, explains, their goal was to help "develop our own voice, not necessarily to get recognition" and to ask questions like, "What's our agenda? What's our objective?"
She points out that the team has been "very lucky" to have gained early recognition from competitions like the Architectural League Prize, which turns 38 this year. This in turn has led to more commissions, early publicity and referrals for Kwong Von Gilnow. "It's still a challenge," as a young practice, says Von Glinow, but with more projects underway, the office is growing and started bringing on interns.
As recipients of the League Prize, Kwong says, "We feel this is a great opportunity to really look back and just rethink what we are doing, and hopefully do more work that we can get into line with."
Von Glinow glances around the room as her peer competition winners busily set up installations. "It's amazing to be in this room with these other architects and designers," she notes, "being in this exhibition is really beautiful, [seeing] how it all comes together."
To listen to Kwong Von Glinow's full League Prize lecture delivered at Parsons, click here. The 2018 Architectural League Prize winners are Anya Sirota of Akoaki, based in Detroit; 
Bryony Roberts of Bryony Roberts Studio in New York; Gabriel Cuéllar and Athar Mufreh of Cadaster, out of Brooklyn; Coryn Kempster of Julia Jamrozik and Coryn Kempster in Buffalo;
 Alison Von Glinow and Lap Chi Kwong of Kwong Von Glinow in Chicago; and Dan Spiegel of SAW // Spiegel Aihara Workshop in San Francisco.