New Center for Earth, Energy + Environmental Departments 'Puts Learning on Display' with Materials that Reflect Areas of Study
University of Kansas's new Earth, Energy and Environment Center (EEEC) features a "rigorous design that follows its internal dialogue," writes one juror of the pioneering architectural project, which recently picked up an honorable mention design award. The innovative facility, which complements surrounding campus buildings with a unique terracotta façade by NBK, was honored in AIA Kansas' 2018 Design Awards and recently highlighted by AIA National. Gould Evans worked in conjunction with Cannon Design and Turner Construction to create a functional design that is as visually compelling as it is high-performing for its students, teachers and researchers.
One of the project's major goals was to connect the earth, energy and environment departments, literally and academically, and position the university to lead research in energy conservation, natural resources and environmental challenges. Attention to design details like coupling natural terracotta with a native limestone base, and accenting a sleek, modern atrium with an enormous hanging fossilized mosasaur skeleton, help emphasize local geological and natural history in a way that's cutting-edge.
At this $78.5-million state-of-the-art teaching and research facility, which is comprised of Slawson and Ritchie Halls, the architecture was aptly inspired by Kansas' local geology and subterranean layers of rocks. To that effect, the architect specified natural and sustainable terracotta by NBK for the façade. On the EEEC's exterior, a dynamic visual effect was achieved by introducing colored texture on the façade, alternating surface treatments within terracotta tiles. These NBK tiles fluctuate from lighter to darker shades of stone hues, so that the building, rather than being visually distracting, neatly blends into the surrounding environment, while still making a design statement. One member of the selecting jury noted that "the envelope is well-developed."
Interestingly, this marks one of the very first NBK façade projects in the United States that incorporates this change of surface textures within the terracotta tiles themselves. The bottom half of an individual TERRART Mid tile is treated in a natural finish while the upper half is textured, ranging from medium combed to corrugated finishes. This corrugated effect plays with the passerby's eyes. The corrugated finishes read darker while the natural finishes offer the opposite effect and light limestone forms the base. This creates an exterior that's anything but monolithic with a variety of color.
The architect worked with NBK's experts to develop custom colors that accent the neighboring buildings' stone façades and the outdoor courtyard's large boulders, which are all native to Kansas. Set on a hillside, a wall of TERRART baguettes was also strategically placed on the western-facing side in order to complement the impact of sunlight warming the sloped building, while also balancing the façade's varying textures.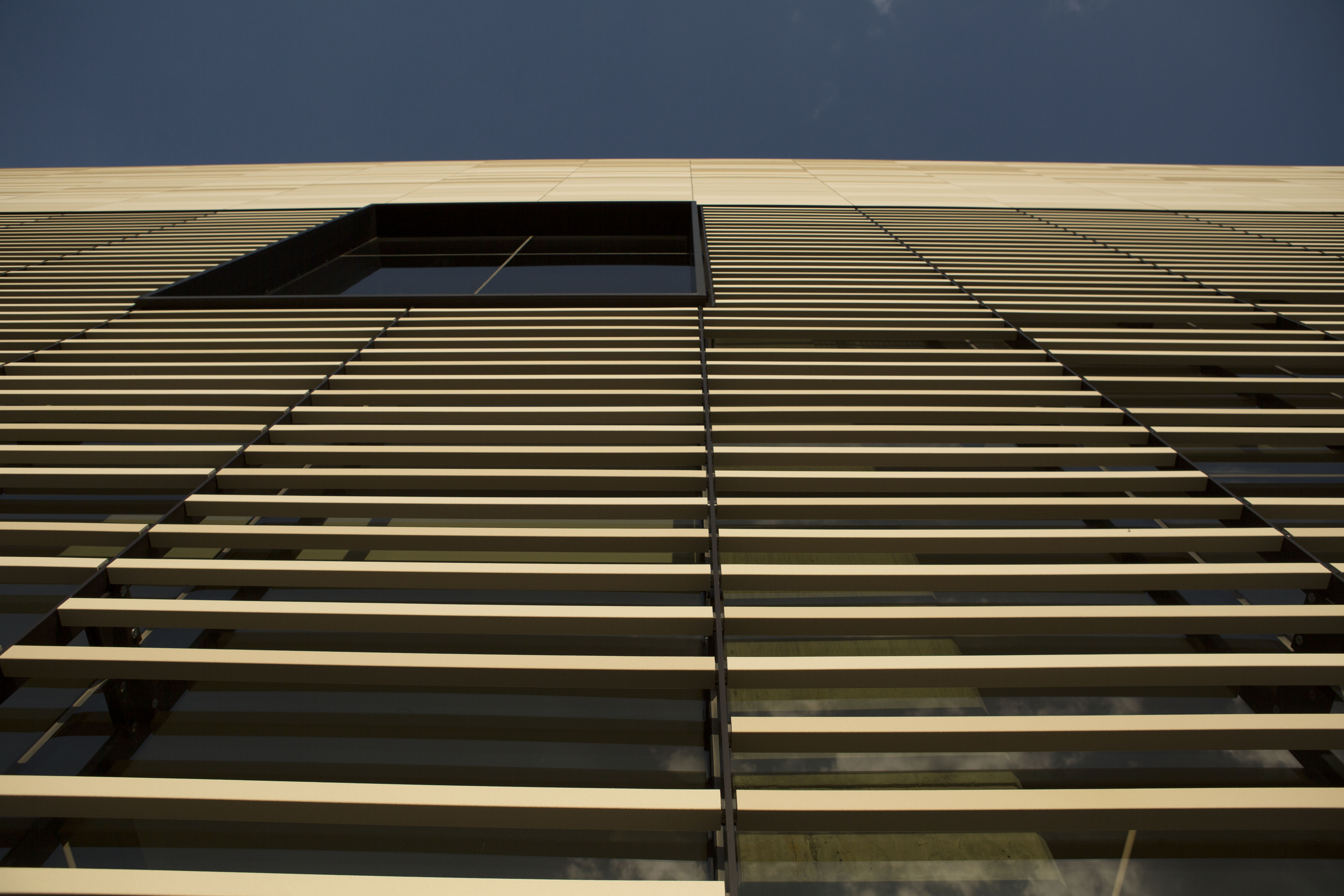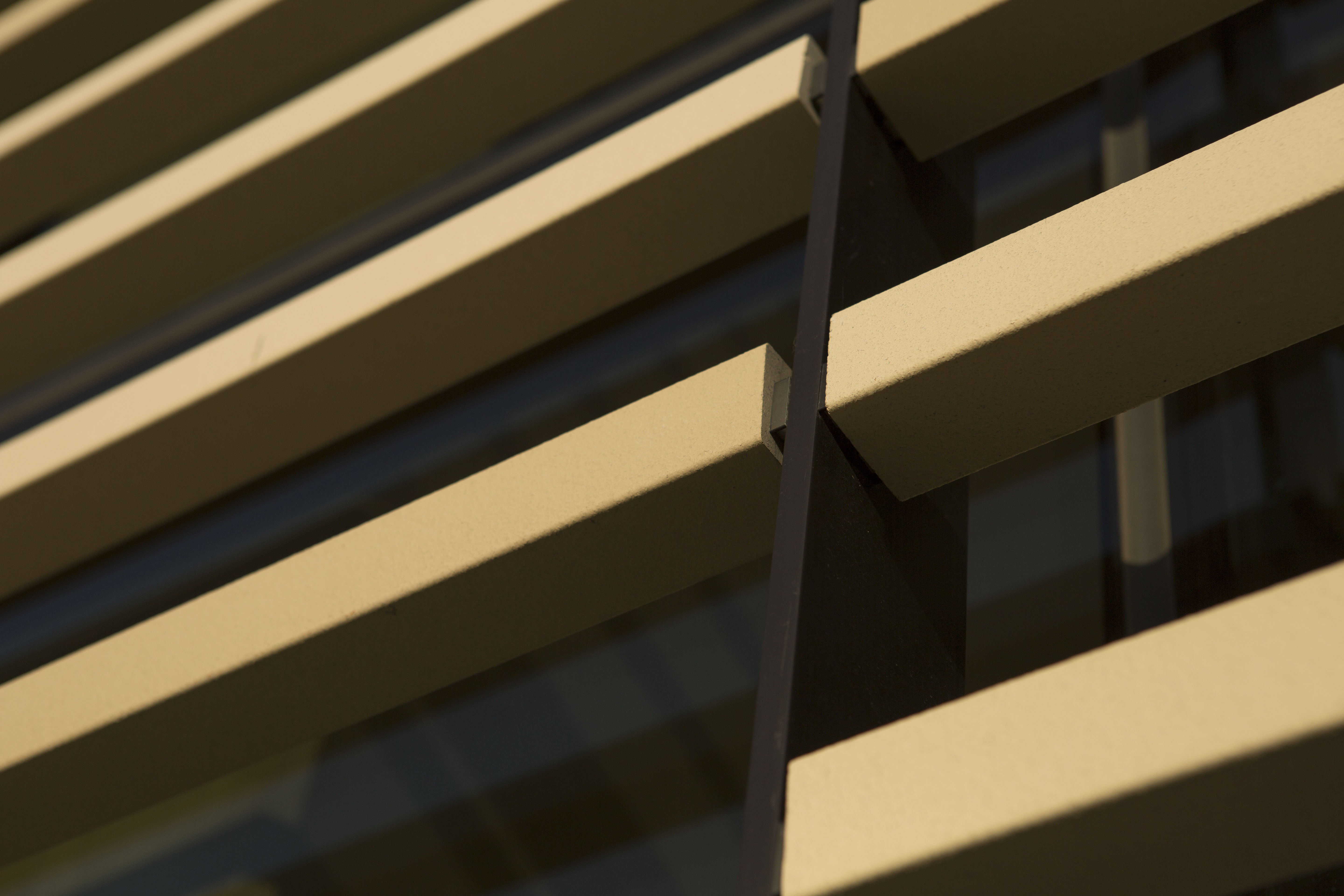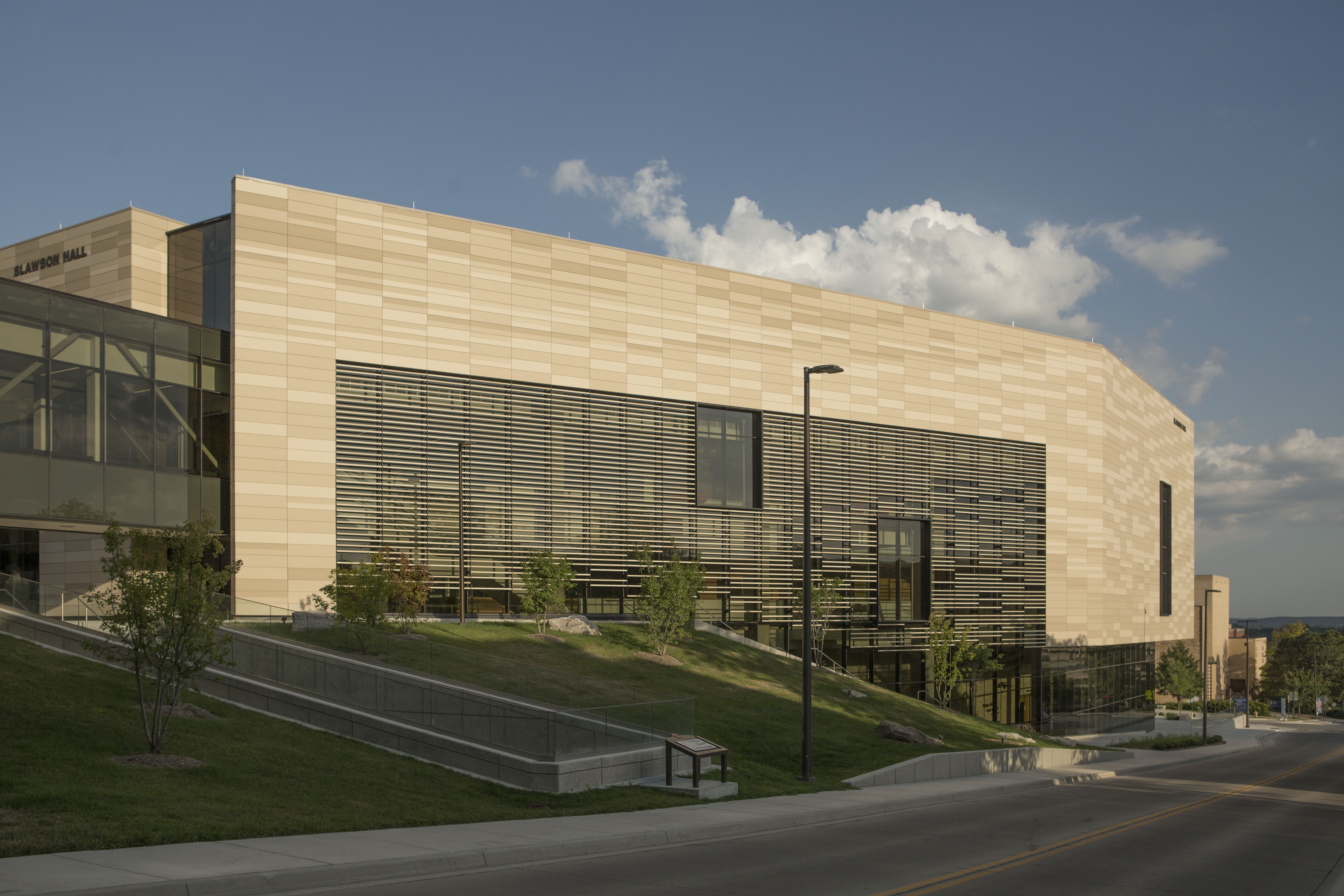 With the newly designed 141,000-square-foot complex using enclosed walkways to physically connect historically siloed energy and environmental research departments, a collaborative, interdisciplinary dialogue between these areas of study can more seamlessly occur. Inside, the integrated research spaces will share a lab bench, resources, an outdoor courtyard, and transparent meeting spaces in the form of floating cubes encased in glass.
"The EEEC seeks to put learning on display, featuring exterior material choices that reflect the fields of study that take place within, and celebrates the state's geological history," writes Gould Evans. "Native limestone provides a base for both buildings, while terra cotta panels are arranged in patterns inspired by the layers of rock beneath the state's surface."
What's more – overhead Slawson Hall's light-filled atrium is a fossil cast of a large sea turtle that appears to be chased by a 45-foot mosasaur skeleton. Both of these are casts of fossils from reptiles that roamed Kansas about 80 million years ago.
According to Gould Evans, the EEEC, which was completed in the spring of 2018 and named one of the year's Best Projects by ENR Midwest, will be the first in a series of science buildings designed to promote innovation and an integrated learning approach.
"We are already experiencing tangible results with collaborations on new degree programs, educational opportunities, and research," Robert Goldstein, Provost's Special Advisor on Campus Development at KU said in a statement.